Embracing Your Inner Critic
Embracing Your Inner Critic
Turning Self Criticism into a Creative Asset
— softcover
by Drs. Hal Stone and Sidra Stone
Published by Harper San Francisco, San Francisco, California.
The Inner Critic. It whispers, whines, and needles us into place. It checks our thoughts, controls our behavior, and inhibits action. It thinks it is protecting us from being disliked, hurt, or abandoned.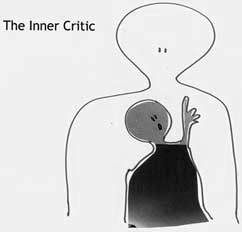 Instead, this critical inner voice causes shame, anxiety, depression, exhaustion, and low self-esteem. It acts as a powerful saboteur of our intimate relationship and is a major contributor to drug and alcohol abuse.
Through examples and exercises, the Stones show us how to recognize the Critic, how to avoid or minimize critic attacks and, most important, how the Inner Critic can become an intelligent, perceptive, and supportive partner in life.
CONTENTS
PART I
Introducing Your Inner Critic
Chapter 1: What Is Your Inner Critic and Where did It Come From?
Chapter 2: How We Talk to the Inner Critic

PART II
How the Inner Critic Operates
Chapter 3: The Critic as the Speaker of Absolute Truth
Chapter 4: The Critic's View of the Physical Body
Chapter 5: The Wholistic Critic: A Self-Improvement Expert
Chapter 6: Critic Attacks and How to Deal with Them
Chapter 7: The Inner Critic's Role in Shame, Depression, and Low Self-Esteem
Chapter 8: The Critic as Abuser of the Inner Child
Chapter 9: The Critic as Killer: Disowning Our Instinctual Energy
Chapter 10: The Differences Between the Inner Critic in Women and in Men

Part III
The Inner Critic and Relationship
Chapter 11: The Critic as a Relational Creature
Chapter 12: Growing Up in the Family: Disowned Selves, Judgment, and the Development of the Inner Critic
Chapter 13: The Incomparable Comparer
Chapter 14: How the Inner Critic Sabotages Our Relationships
Chapter 15: In Summary

Part IV
Transforming the Inner Critic
Chapter 16: Understanding the Underlying Anxiety of the Inner Critic
Chapter 17: Becoming a Parent to Your Inner Critic
Chapter 18: Moving Toward the Creative Life: The Inner Critic Transformed